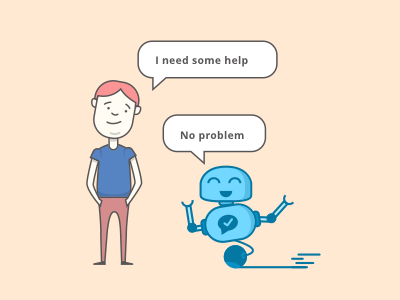 Trends in technology are creating a greater competition among the businesses in the market. It is become more challenging each day for the businesses to acquire the desired market share among the competitors. Everyone is moving towards in implementing the latest technology to increase the productivity of their business. However, most of the businesses are not able to due to the lack of budget. When the budget is not being the issue, businesses lack in having the required workforce. These challenges are affecting the growth of the small businesses and startups that have a limited budget.
Discussing the business growth, there is an interesting thing for you to know that is 'chatbot development'. If you are working in a company, then you are using a chatbot to communicate with the team members, colleague or customers. You can directly send a message to start a conversation or can create a group. Chatbots are easy, reliable and cost-effective to use even for the businesses that have a limited budget to spend for a business growth. Thus, chatbots are feasible to use by anyone or by any business whether large, small or a startup.
The news from Financial Counselor states that chatbots allow easy interaction with the customers globally. Most of the business has now started a live chat with the customers using a chatbot. This ensures the customers that they are taking services from a renowned company and will automatically trust your business. The news also gives information for the opportunities that chatbot development companies have got after the introduction of the natural language processing bots. Chatbots promote two-way communication between the service provider and the customer.
https://www.facebook.com/plugins/post.php?href=https%3A%2F%2Fwww.facebook.com%2Fsitsl.io%2Fposts%2F2578365389055760&width=500
If you run a small business then you can easily build a bot that can be managed in your overall budget. I am not recommending you because of the popularity of chatbots but for your business profit only. Think about the time that you can efficiently chat with your customer, you will resolve most of their queries using a simple conversation! When you will understand what are the specific needs of a customer, you will be able to provide them with the feasible solutions. Hopefully, you will increase the economic value of your business and can receive the required market share.